Chile Red Stags

Since 1994 we have been offering Red Deer hunts in the Country of Chile.

Chile offers what is possibly the world's greatest opportunity to hunt for a free-roaming, record book Red Stag.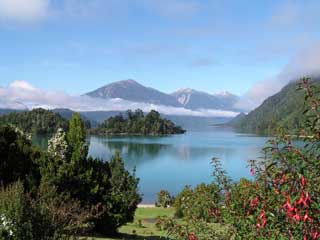 In the last two decades, our hunters have enjoyed 99 % success and have placed many huge stags in the top ten of the SCI record books under the South American category which speaks for itself.

There is nothing more exhilarating than to experience the sounds of these monster stags roaring during the rut, at close range, in the early morning mist.

Some of the hunting areas consist of various private ranches that have joined forces in applying a strict game management program, to produce these trophy red stags.

These animals are completely free roaming. No high game fences or unnatural substances are used, only through the efforts of selective genetics, exceptional natural feed, and habitat.
Hunting and General Info
All hunts are one guide per hunter. Most of the hunting is done by stalking or sitting in high house (tree house). The terrain consists of soft rolling hills, with plenty of heavy dark timber and natural native cover, bordering open field or meadows along with farmlands; which make Walking and Stalking very enjoyable.

Most seasons, we try to harvest between 10-15 mature stags from 3 different hunting areas. The hunting for these majestic animals is very limited and the age of the stags we try to harvest is typically 9 1/2 years and older, which makes them very impressive trophies.

SEASON: Hunting Starts from March 1st through the end of July, however all our hunts are conducted during the rut, or breeding season, which peaks around March 10th through April 5th.

TRANSPORTATION: Arrive into Santiago, Chile, and then you will connect on to Puerto Montt, where you will be greeted by your English speaking Host. It is then another one to two hours drive depending on the area you will be hunting.

ACCOMMODATIONS: Vary from a newly built cabin or hunting lodge, to a ranch house or inn, depending on the area.

Hunting License: see our section on licenses/permits.
Daily rates: $350 -$400 per day/night, per hunter, depending on hunting area or lodge. Minimum of 4 days. Non Hunters $200 per day.

Deposit: $2,000 deposit required to book a hunt date, on a first come, first served basis. * Deposits are non-refundable but may be passed on to another hunter, or used for the following year, only.


TROPHY FEES FOR RED STAG
CIC/score less than 179.9 pts. $2,250
FROM: 185 cic pts. $2,875 + $100 x ea. add'l pt.
FROM: 190 cic pts. $3,375 + $125 x ea. add'l pt.
FROM: 195 cic pts. $4,000 + $200 x ea. add'l pt.
FROM: 200 cic pts. $5,000 + $250 x ea. add'l pt.
FROM: 205 cic pts. $6,250 + $250 x ea. add'l pt.
FROM: 210 cic pts. $7,500 + $250 x ea. add'l pt.
FROM: 215 cic pts. $8,750 + $250 x ea. add'l pt.
FROM: 220 cic pts. $10,000 + $500 x ea. add'l pt.

CONDITIONS: Rates for trophy fees are based on the C.I.C. or European scoring system which credits weight and mass more on the score. Unlike SCI which credits more on length.
It is our suggestion that you consult with your guide for the size of trophy and the budget you may have in mind, before the hunt starts. This way, there are no misunderstandings later.
It is up to your guide to decide which stag you may take and to the hunterís advantage. If you happen to harvest a lesser point stag than what was agreed, you pay the lesser fee. On the other hand, if your guide allows you to harvest a greater scoring stag, you only pay for the agreed fee.
Keep in mind that these animals are free ranging and although youíre experienced guide will have a very good estimate on the score on a wild animal, alive on the hoof, it is unlikely he can be 100% correct.
To give you a better understanding of the CIC scoring system; through out the years, we have learned that the majority of the Stags (about 80 %) taken each season will score in the 200 CIC score range. This is around $5,000. 200 CIC Stag score is equivalent to a 150 class Whitetail deer or a 350 class Elk, SCI or B&C.
For more information, visit our Frequently Asked Questions.
Contact us for references